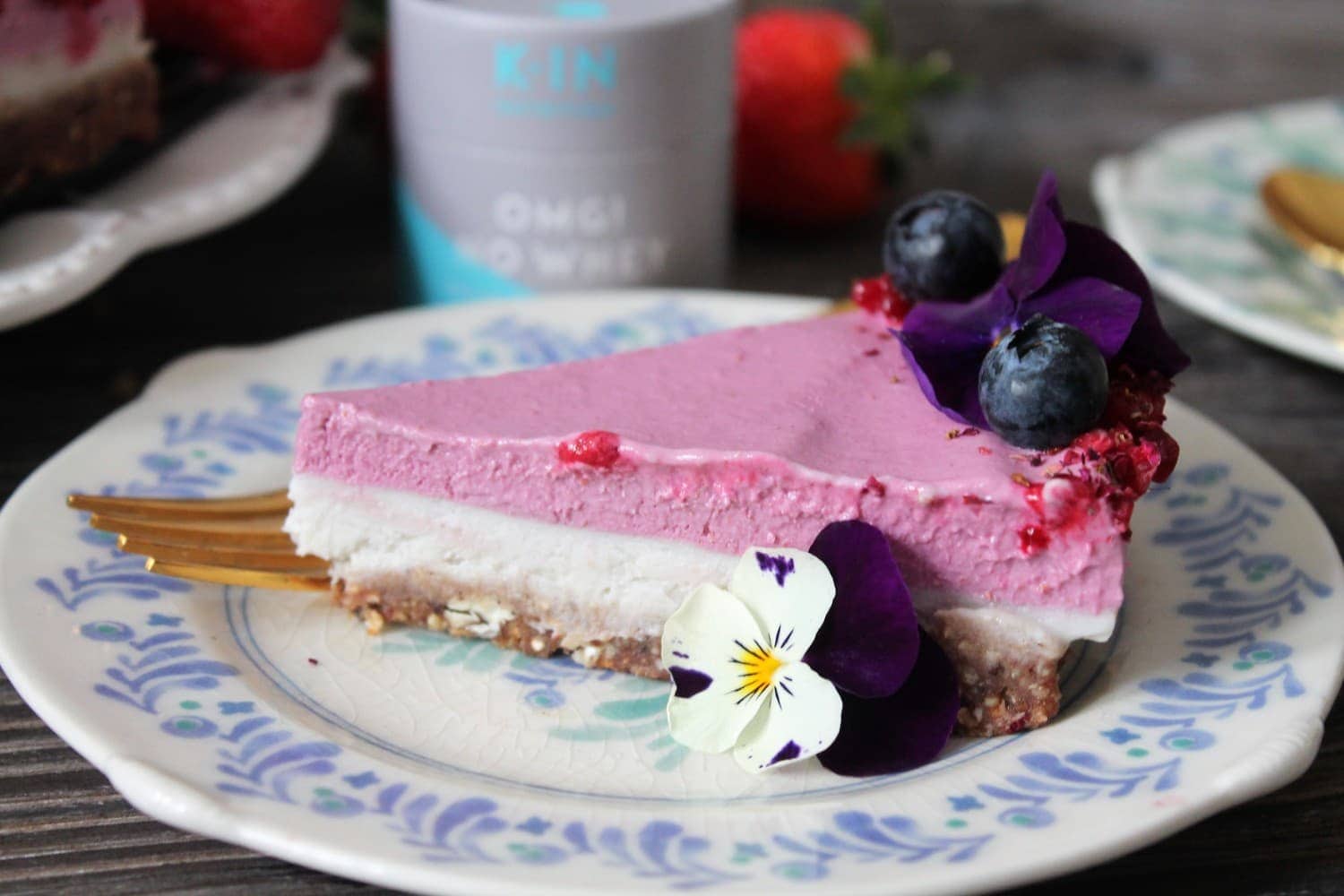 Who doesn't love a slice of cheesecake? Especially one made with tasty whole foods and packed with plant based protein. Now you can have your cake and eat it too!
Serves 8 | Prep Time 1 hour + setting time & overnight chilling time
INGREDIENTS
For the base:
– 35g Superfoodio Cacao Quinoa Clusters
– 140g almonds
– 15 pitted medjool dates
– 2 tbsp raw cacao powder
– 1 tbsp melted coconut oil
– Splash of vanilla extract
For the vanilla layer:
– 1 heaped tbsp Kin Protein Powder 
– 2 cans full fat coconut milk, chilled overnight
– 2 tbsp brown rice malt syrup
– 1 tbsp coconut oil, melted
For the raspberry layer:
– 1 cup cashews, soaked overnight
– 1 cup frozen raspberries
– 2 tbsp brown rice malt syrup
– 1/4 cup almond milk
– 1 tbsp coconut oil, melted
METHOD
To make the base:
Place the Superfoodio clusters, almonds and cacao powder into a food processor and blitz it until the you have a coarse flour. Add the pitted dates, coconut oil and the vanilla extract and blitz again until a sticky dough starts to form. Press the mixture into a cake tin, spreading it as evenly across the tin to form the nutty base. Place the cake tin in the freezer to set while you make the other 2 layers.
To make the vanilla layer:
Remove the coconut tins from the fridge. With a spoon, only scoop out the solid part of the coconut milk else the vanilla layer will be too watery. Place the solid coconut milk in a pan on a low heat. Add the KIN protein powder, coconut oil and brown rice malt syrup. Stir continuously until the coconut milk melts and is mixed well with the other ingredients.
Remove the tin from the freezer and pour the vanilla cream on top of the nutty base. Place the tin back in freezer for at least 1 hour to set.
To make the raspberry layer:
Drain and rinse the soaked cashews and place them into a food processor. Add the frozen raspberries, melted coconut oil, almond milk and rice malt syrup. Blend everything together until the mixture reaches a silky and creamy consistency.
Pour the raspberries cream on top of the vanilla layer. Smooth the surface of the top layer until it is evenly spread.
Place the tin back in the freezer for another 2 hours to allow the cheesecake to set. Once completely set remove the tin from the freezer.
When it is time to serve, decorate with berries of your choice. Enjoy as a healthy treat!
Want to discover more nutritious recipes? Try a Superfoodio box today
– All our boxes include a versatile superfood meal ingredient and a range of easy to follow recipe cards.
– Don't forget – we change the box contents every month, so you can be guaranteed a new, exciting selection of superfood-infused foods and recipes with every box received.